FREE "Ignition" Package
Full-Color E-Book
The 10 KEYS to Ignite the Phoenix Code
Resurrection Process
Core practice guided meditation.


(with brief instruction video)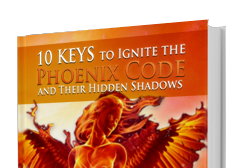 You are part of something huge and unstoppable at this pivotal time in history. It's intense, exhilarating, scary, and demanding more than you ever knew your Earth Walk would require of you.
The old paradigm is crumbling.  Out of its ashes a collective Resurrection is emerging, insisting that you show up, stop living from your egoic tendencies, past patterns, and commit to the destiny you were reborn to embody. This global rebirth requires wayseers, visionaries, catalysts and artistic revolutionaries to live from their undeniable, invincible core and blaze a new pathway for Humanity.
Your future Self is literally attempting to radiate its power and presence into you and instruct how to Live your Legacy, but you may not be receiving the full signals!
Know without a doubt that what is being required from you in this time will be given to you 100% if you choose to embrace every part of your reality as your creation and know that nothing sources your experience but you in each moment.
You are being asked to become a Reality Creator, first to wake as an incarnation of the Divine and realize that same power is yours, and second to assist in the transition of our planet through the eye of the needle. Once awakened, those two things literally become one.
Your soul's sacred service IS to embody that Divine Fountain of Power through whatever way inspires YOU most.
Is The Phoenix Code for You?
The Phoenix Code is for those who were born for something immense—born ready for initiations that will activate their Soul's Unique Code—and are calling in the courage to live from it.
This Initiation is for those encoded with the urge to bust free of the Matrix and live from radical freedom at all costs—to leave a legacy for all Humanity.
The Phoenix Code is a wake up for those stepping into embodied leadership as Ambassadors of the New Earth and those holding the gates open for others to walk through.
This Initiation is for those courageous enough to dance with their shadows in the flickering flames, churning & burning with desire to unleash their potential.
It is for those who have heard the inner calling but have been unsure how to engage it, been lonely, or are still in the ashes of self-worth issues.
It is for those seeking next-level expansion creating powerful inner foundations to sustain their highest frequency.
How Could It Transform You?
Spark awake your 'Evolutionary Contract' ~ Magnify the power and presence of your Soul as you re-discover, re-enchant, and re-commit to your unique Earth Walk.
Bust through the seal or subconscious limit on how much bliss, activation, and frequency you choose to experience.
Discover how a Priest/ess responsibly stewards their Essence through Life as if it was the most precious pearl in existence, and dances awake their commitment to living life as Ceremony.
Directly touch those deeper realms of consciousness (beyond just concepts) that you know are possible as a multi-dimensional being connected to your Soul Power.
Tap into your body's power to self-heal, regenerate, and be guided by Universal Intelligence.
Your Mastery Made Visible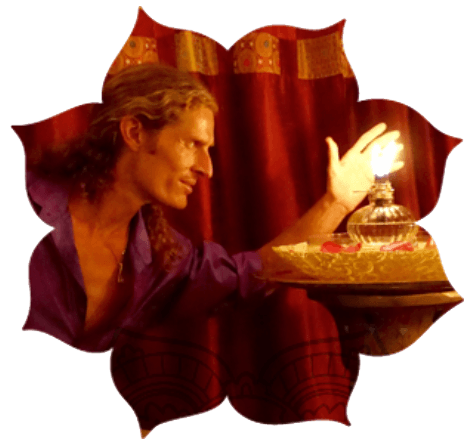 AMORAEA IS AN INITIATOR WHO HOLDS THE MIRROR UP FOR YOUR MASTERY TO BECOME VISIBLE AND TRANSMUTE HIDDEN ASPECTS YOU HAVE VEILED YOURSELF FROM.
Through 20 years of consistent internal exploration and esoteric education, 'The Phoenix Code' has taken shape as an extensive experiential approach to breaking through our false identity and awakening to our Ecstatic Potential as Divine Humans on a dynamic and infinitely evolving journey.
Amoraea draws from many 'Alchemical Arts' to create a whole-systems transformation in your psyche, soul, heart, and body so that the resurrected new light in you is grounded without old patterns finding root again.
As Founder of the Eternal Flame Sanctuary in Kauai, The Light School Mastery Trainings, Visionary & Soul Awareness Facilitator, Sacred Ceremonialist & Spiritual Artist, Amoraea's passion for awakening our 'Divine Human' potential has led to a treasury of embodied teachings and events ministering the evolution of the species.
What if you had someone to Initiate you through a series of revolutions in your consciousness, clarify where your power is leaking and help embody your mythic story you dreamed long ago as a Soul?
I assist the discovery of your essential core that knows how to utilize every inner resource to live your legacy and livestream your Soul's unique presence. Blazing new evolutionary pathways within you requires powerful tools and support to move through old wounds, beliefs, and any level of victimhood until you become a Resurrected One living from a state of continual rebirth.
Together we will open to a full unleashing of untapped energy, ecstatic communion with life and a radical new level of freedom in your awareness.
Western culture has forgotten the ancient art of Initiation, an alchemical process to raise you through successive stages of embodied mastery, inner freedom, and mystical connection to Life. We all love the idea of resurrection, yet we need a breakthrough experience that catapults us beyond our inner walls.
You will have a dedicated guide walking with you through your deepest shadows and open the fearless path towards your YEStiny.
This power of YES at the Soul level enlists every force necessary to overcome the energetic hurdles that have been holding you back from living it, turn you into an evolutionary leader of whatever niche you are called to, and create clear alignment with your eternal essence.
These are the steps to awakening the Divine Human Potential within you.  The real result of all this work, though, is beyond any goal.  It lies in a realm that has no name or form, and is the emergence of your consciousness beyond duality into the freedom of Pure Awareness and deep, intimate union with Infinite Source… what we all came here to experience!
Our first Discovery Session will uncover where your Soul's Compass is pointed and what you need to harness inside towards its fulfillment.
Packages Include:
Skype Sessions
Mastery Coaching & Counseling by Phone
Long-distance Energy Attunements & Readings
Personalized Recorded Audio Meditations (I design just for you to implement daily!)
Meditation Training, Breath & Esoteric Chi-Building Somatic Practices
In-person Sessions (utilizing 'shamanic', healing, and energetic 'Lightbody' work)
Written Tailored Practices & Protocols (to keep you leveraging towards your goal)
Focus Of Our Work Together:
Alchemical Initiations & Rebirth (Through Ritual, Breath, Shamanic Guidance, and Energy Work)
Retraining the Mind, Recalibrating the Nervous System, Re-engaging the Feeling Body to Live from Pure Ecstatic Presence
Relinquishing Control (Facing what is Behind Your Ultimate Fears = Liberation from your Operating Systems)
Shamanic Awakening of your Higher Senses = Attunement to your Own Field of Mastery
Expansion of Chi Flows & Centers in the Subtle Bodies = More Engagement with Life & the Dynamic Infinity of You
"Having been in a state of post traumatic syndrome and bodily injury due to a bad car crash, just coming out of a two-year cycle of extreme challenge, my Phoenix Code initiation with Amoraea provided the portal to launch with unsurpassed depth into intrinsic wholeness and intimate connection with myself again. I was overcome by the safety net and field of love in which to release and receive an honest-to-goodness, masterful healing."
"Amoraea is a very gifted healer. He channeled through messages which brought me to tears, releasing emotional baggage I had been carrying for a long time which was costing me emotionally, spiritually, and physically. Amoraea is so tuned into what my soul needs to hear. I feel I broke through ancestral ties which were holding me back and keeping me small—all stemming from deep fears. I feel lifted and expanded way beyond what I have ever experienced. I feel euphoric and ready to really step up into my light and into love. My first healing session was different to anything I had ever experienced before in taking me into the deep places where stagnation released and then up to such amazing heights to help me realize my magnificence."